Johnny Appleseed Days 2023
Johnny Appleseed Days is brought to you by the Paradise Ridge Chamber of Commerce and generous sponsors.
THANK YOU to the many businesses and organizations supporting California's oldest Harvest Festival!
Vendors: Due to unprecedented interest, the  event is FULL for vendors in many categories. If you are interested in participating, email info@paradisechamber.com and include your business name, product or service information, and links to website or social media.
First held in 1888, Johnny Appleseed Days is the oldest harvest festival in the state! The 2023 fall festival will celebrate Paradise's orchard heritage with apple pie and ice cream, as well as fresh apples from Noble Orchards. Slices  of apple baked in Paradise by event sponsor Save Mart will be served in the Save Mart Pie Pavilion.
Local businesses will share goods and services. Paradise will host artisans from all over the state and beyond selling a variety of handicrafts. The ever-popular children's area, sponsored by Paradise Unified School District, will feature face painting, nostalgic games and Johnny Appleseed with fruit and stories. There will also be continuous hometown entertainment graces the Gazebo Stage throughout the event.
The food court will offer an outdoor seating area and a variety of delicious food.
Scroll down to learn about three exciting new additions to the fest!
Saturday, October 7  from 10 a.m. to 5 p.m.
Sunday, October 8 from 10 a.m. to 4 p.m.
Terry Ashe Park
6626 Skyway
Paradise
Paradise Ridge Chamber's Johnny Appleseed Days is an historical event that involves the entire community. The event is enjoyed by scores of attendees each year--many making Johnny Appleseed Days an annual family tradition. Johnny Appleseed Days represents one of the ways that the Paradise Ridge Chamber of Commerce unites local businesses with local residents.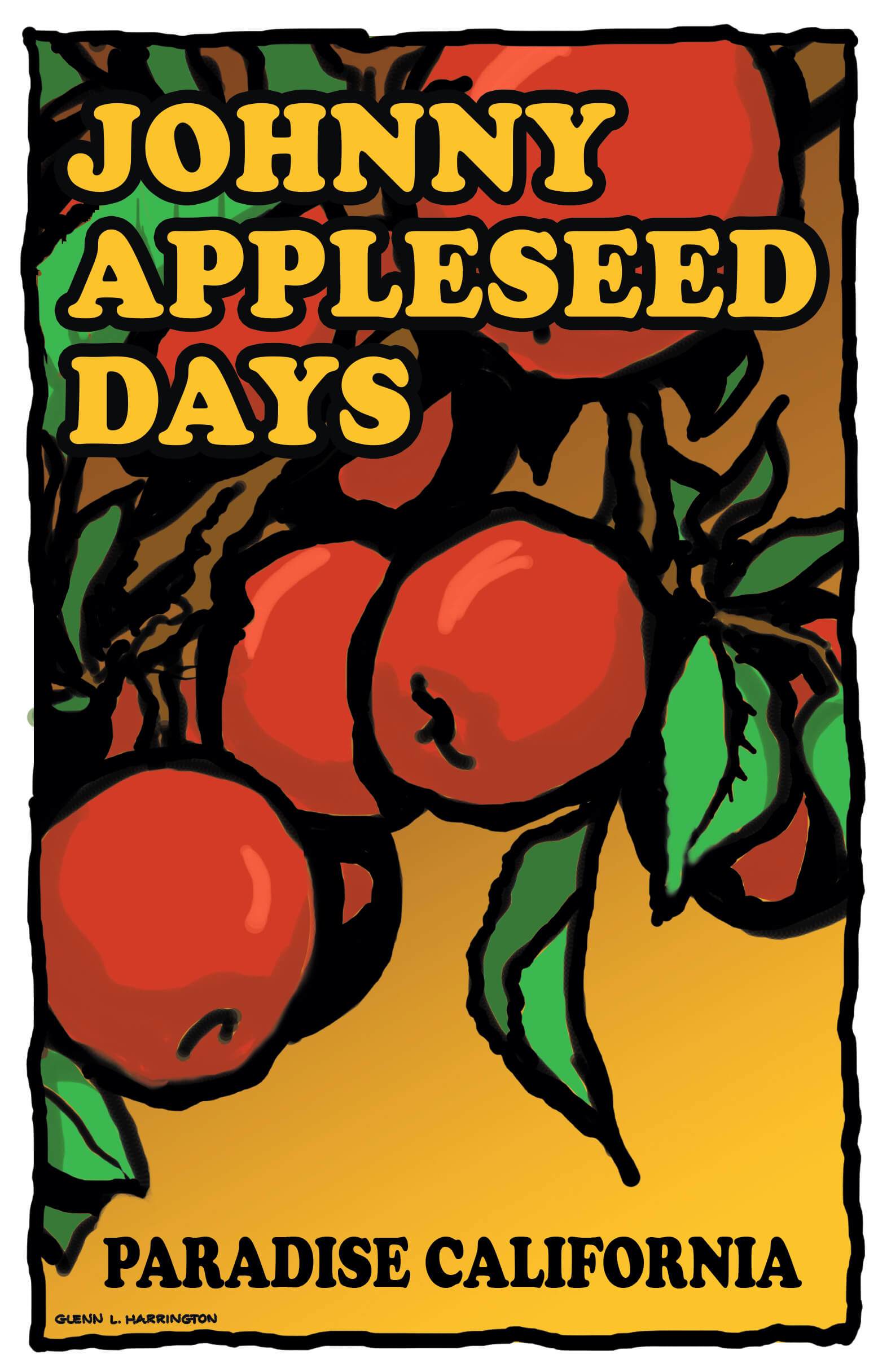 Visit theParadise Pumpkin Patch and Johnny's Pub at "The PLaCe" adjacent to the fest.